Nettle Soup Recipe
---
Nettle Soup Recipe | How To Make Nettle Soup
Bored of Cream of Tomato Soup? Why not relocate your kitchen outdoors, and try your hands at this bushcraft classic – Nettle Soup Recipe. This post will teach you how to make Nettle Soup, and It's surprisingly delicious!
Nettle Soup Recipe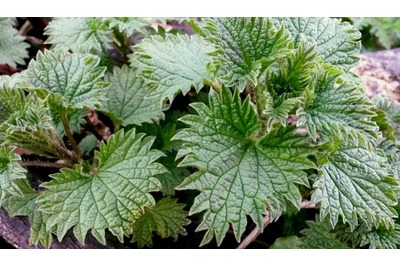 At some time, you must have experienced the sharp sting and lingering unpleasant tingle of the common stinging nettle Urtica dioica. Now is your opportunity to get revenge by cooking up some young nettle leaves into a delicious soup.
Spring is almost here, and like the start of autumn it's a time that yields lots of wild food. For a relatively low effort wild dish, you can simply pick some new leaves from a beech tree (before the bitter tannins come in and make the leaves darker), and eat them raw in a salad. However, a satisfying nettle soup is well worth the extra half hour preparation.
Nettle Soup Top Tip: Young leaves of nettles are better for soup, so start searching where you may have seen nettles growing last year. You might think the sting is less potent in younger nettles… well to save you finding out the hard way, it's not. So take some sturdy gloves (especially if you've got little helpers!) and a bag to carry your pickings. Once the leaves go in hot water the sting is neutralised. You need a around half a carrier bag to make a decent amount of soup for four.
Nettle Soup is a tasty wild recipe that has become a favourite of mine when camping out in the field. It's relatively quick and easy to make and I promise you this, it's so much tastier than it sounds!
How To Make Nettle Soup
This is an easy foraged dish to get your bush dinner on the go. Nettles are an incredibly versatile ingredient with many uses and often very easy to come across. Once cooked nettles have a similar taste to spinach or cabbage.
1 tbsp olive oil, plus extra for drizzling
1 onion, chopped
1 carrot, diced
1 leek, washed and finely sliced
1 large floury potato (Maris Piper or similar), thinly sliced
1l vegetable stock
400g stinging or dead nettles, washed, leaves picked (see tips below)
50g butter, diced
50ml double cream
1. Heat the oil in a large saucepan over a medium heat. Add the onion, carrot, leek and potato and cook for 10 minutes until the vegetables start to soften. Add the stock and cook for a further 10-15 minutes until the potato is soft
2. Add the nettle leaves, simmer for 1 min to wild, then blend the soup. Season to taste, then stir in the butter and cream. Serve the soup drizzled with extra oil and scattered with dead nettle flowers, if you have them.
3. And voilà! Enjoy your nettle soup.
There are plenty of other ingredients that would also work well with stinging nettles, like chicken or bacon. Why not create your own recipe using stinging nettles? For some other variations, you could try these recipes over at naturessecretlarder.co.uk
Stinging nettles are widely available across great Britain, which in part, is why this has become such a popular bushcraft recipe. If you're considering camping outdoors, then it's a good idea to pre-plan your meals. The more you cook in the wild, the more you will learn which foods can be readily swapped for wild ingredients.
We hope this Nettle soup recipe comes in handy for your next trip. If you do make a nettle soup in the wild, we'd love to see your cooking skills! If you have any other tips on how to make nettle soup more delicious, we'd love to hear too!
---