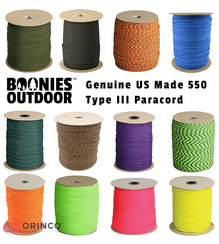 If you are looking for genuine high-quality 550 paracord in lots of bright colours, then you've found the right place. Forest School Shop offers the very best US paracord that money can buy; in fact, we only sell 550 Paracord which is made by the single supplier of genuine 550 paracord to the US Military. We have hundreds of coloured paracords available, and we supply spools of up to 1000 feet in length.
Paracord Shop
Buy Paracord at Forest School Shop. Paracord is an essential part of your outdoor kit and can be used in a wide range of bushcraft, camping, survival and forest school activities. We stock a wide range of genuine 550 Paracord in a huge selection of colours from dark greens designed to camouflage with your surroundings to high-visibility tones perfect for working at low light. At Forest School Shop you can buy any of our genuine 550 Paracord by the foot from a single foot upto a whole 1000ft spool.
Paracord is an abbreviation of 'parachute cord' the original use of the cord which has since become used in a large number of outdoor applications. Despite its origins in the construction of parachutes, the military use it for any application where a strong and lightweight cord is required. At Forest School Shop we are proud to stock military grade MIL-C-5040 Paracord for when there is no room for compromise. Since its origins, Paracord has been used in a wide variety of applications, everything from being a survival essential to whipmaking.
Paracord bracelets have become an increasingly popular accessory amongst bushcrafters, campers, survivalists and explorers. A Paracord bracelet it made by weaving a number of Paracord types into a wearable bracelet which can be worn to ensure that, in emergency or survival situations, a length of Paracord is never far from hand. This cord can then be used in securing cargo, lashing together poles when preparing shelter, fixing broken straps and even assisting in water rescues. Asides from its' wide range of practical uses, the making of Paracord bracelets is a popular forest school activity for children or those new to bushcraft. At Forest School Shop we stock everything you need for making Paracord bracelets including buckles and accessories.
Forest School Shop is your one-stop UK Paracord shop with a huge range of Paracord and accessories for survival, bushcraft and forest school activities. Buy Paracord online today at Forest School Shop and enjoy free UK shipping on any order over £70.