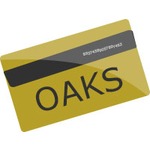 To thank our customers for their continued support you can now collect Oaks Loyalty Points for every purchase that you make online with us. You'll receive 10 points for every pound you spend. 250 Oaks Points = £1.00 to spend with us on future orders for outdoor and educational equipment.
Oaks Points are flexible and won't expire. You're welcome to use as many of your saved points against future orders as you like. There no limit to how many you can use against your new order, even if you have enough points to pay for your order in full!
Please note: Oaks Points may only be collected if your order is placed via online our website (excludes telephone, email and postal ordering).
How to collect our Oaks Points
If you've not shopped with us, or one of our sister-sites before, simply create a new customer account as you proceed through the checkout, or if you are an existing customer please log in to your account and your points will be added to your order after completing checkout.
If you'd like to WIN some Oaks Points to spend on our website, then please head over to our Facebook page and "like us" to make sure you're kept up-to-date with competition details.
How to spend Oaks Points
To spend your points simply log in before you reach the basket page. Once you have done this you will have the option to use your points to reduce your order total.
How can I add Oaks Points to existing orders?
Sadly, as our loyalty points system is completely automated, it is not currently possible to add points to past orders.